Our Doctors
At DLV Vision, our committed doctors take their time with each patient to customize their care and determine treatment options that work best for their needs. With our team's expertise, we strive to provide an exceptional patient experience and incredible vision results for everyone we see.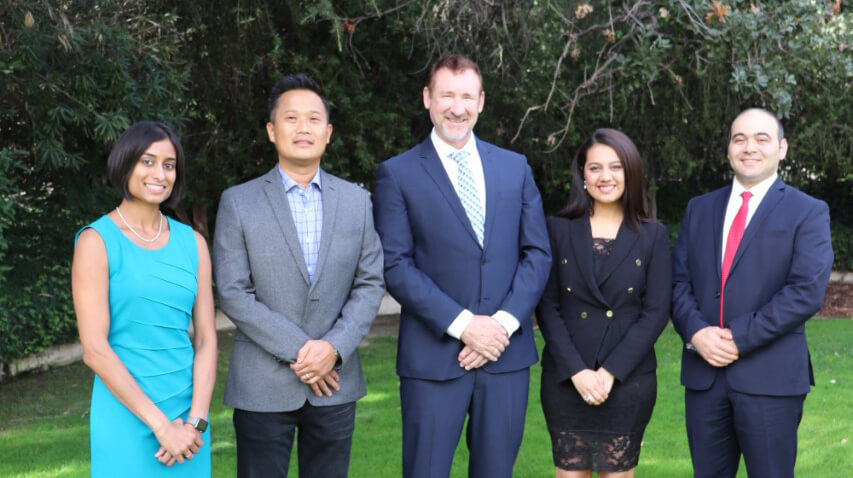 Meet Our Ophthalmologists
---
Anh Le, O.D.
Clinical Director Dr. Anh Le grew up in Los Angeles and attended UCLA where he earned his first undergraduate degree in neuroscience and was a member of the Alpha Lambda Delta and Phi Eta Sigma honor societies. After graduation, Dr. Le engaged in clinical research at the John Wayne Cancer Institute before earning a second degree in visual science and his Doctor of Optometry degree. He completed his externship training in a variety of practice settings, including the Eye Institute of Utah, the U.S. Naval Hospital in San Diego, and The Eye Institute in Pennsylvania.
Sidra Qadri, O.D.
Dr. Sidra Qadri grew up in Houston where she attended the University of Houston and double-majored in psychology and biology with a minor in health sciences. She received her optometry degree from the Rosenberg School of Optometry in San Antonio, Texas. She completed externships in ocular disease management at the Community Eye Care Clinic in Fort Worth, Texas, in primary care optometry and ocular disease management at the Veteran Affairs Hospital in Peoria, Illinois, and in refractive surgery co-management in San Antonio, Texas.
Soseh Markarian, O.D.
Dr. Soseh Markarian immigrated to the United States after high school and attended the California State University at Northridge, where she graduated cum laude with a degree in chemistry. She earned her Master of Arts in medical sciences from the Pacific Northwest University of Health Sciences and Heritage University in Washington. She then attended optometry school at the Western University of Health Sciences in Los Angeles before completing her externship here at DLV Vision.
Great Vision, Anywhere in
Southern California
---
DLV Vision is proud to be the southern California area's preferred choice for laser eye surgery. No matter which one of our convenient locations you visit, you'll get an expert team ready to help you see the world clearly!
Kiana Beil
April 11, 2023
I had evo ICL surgery last week and Dr. Dougherty and his team were incredible! My first consultation appointment was in December, and Dr. Dougherty spent 30 minutes on the phone with my parents walking through options afterwards (we decided I'd go with evo ICL instead of LASIK due to my thin corneas and dry eyes). Dr. Dougherty made me feel truly looked after and comfortable! After my consultation I went out of town for a few months so I had to push back my surgery. Christina did an amazing job helping coordinate, arranging pre-op and post-op appointments, and getting me all the info I needed! The entire DLV team was so friendly, welcoming, and helpful. The procedure itself wasn't painful (I just felt pressure) and the recovery was quick. I now have 20-15 vision and would highly recommend DLV vision to anyone looking to get any kind of eye procedure - they are absolutely incredible!! 🙂
I had a consultation via phone and they provided great service. They called my in advance and there was no wait time unlike other offices. They offered to give me much more information instead of sweeping it under the rug. I was informed about the risks and I feel much more comfortable about the procedure now that I know I'll be in good hands. I plan on going forth with LASIK soon.
Steve O.
January 26, 2023
Made an appointment for the same day. They examined my eyes and put me at ease.
Michael Land
January 18, 2023
Dr Paul Dougherty did my LASIK recently, and I have to tell you...the experience was nothing short of exquisite. From beginning to end, he walked me through everything and it was seamless. Calm, cool, comfortable. Not to mention the staff made me feel right at home. I wouldn't trust my eyes with anyone else.
Dil Phagura
January 17, 2023
I was referred over to Dr. Doughtery for cross-linking procedure. His team is absolutely great and he always puts patient care first. He was very clear with communication and I am greatly to have worked with him. His staff member Christina Simental was absolutely great to work with and she really made the process easy for me to understand. Thank you very much for making it a great experience, Christina!
Natalie deMartino
December 6, 2022
Dr. Dougherty and his team were very efficient and professional. Everyone was super helpful and great at answering questions. I am very happy with my LASIK results and experience here.
Maria A Garcia
December 4, 2022
Went for an appointment recently loved the office environment. Staff was super friendly.
i recently had lens replacement at DLV.  Dr. Pham is my surgeon and not only is he very skilled at what he does, he is also very personable , patient and spends as much time as needed to answer all of my questions.  
The office staff is very helpful, especially Diana A. , who is very knowledgeable and helpful and gets the job done with a smile.  Jill S.
Jamie is a manager for these offices and she helped me with getting my prescription eye drops approved.
Originally, I worked with the office personnel for nearly 3 weeks but we kept getting denied by my insurance company.
Once Jamie took over the situation, the problem was solved that day within hours.
I really appreciate Jamie's hard work and dedication to her clients welfare.
Janine Lenway
I had my Iridotomy done by Dr Vosoghi at DVL Vision in Westlake, he was very professional and knowledgeable. He went through details with me and explained how important was to get my Iridotomy done. Alex his nurse assistant was amazing he took my eye pressure and was so kind, helpful and friendly. They both made me feel so comfortable.
They are ALL so WONDERFUL. The ladies at the front desk to Haba, my clinical technician, my ophthalmologist, Dr Dougherty, and Dr Le my Optometrist! And Dana my patient counselor! Love them all!
I am a patient of Dr. Shah. He recently came to DLV and I had to follow him from his previous employer. Dr. Shah and the staff were very friendly and efficient and I strongly recommend Dr. Shah if you are in need of a retina doctor or any other of your eye care needs.
I underwent cataract surgery and a followup laser procedure to clear the lenses.  Dr. Dougherty is an excellent surgeon, extremely thorough and precise.  I felt confident that I was in good hands.  He is kind and caring.  I would recommend him highly.
Great experience! I was having difficulty with some eye problems and they were able to squeeze me in when they were booked solid. I felt very comfortable and the technician was very helpful in explaining everything I needed to know. The doctor was great and I walked out understanding what I needed to know about my eye.
Overall great experience. Lucy was very helpful leading up to my surgery date and made sure I had everything I needed. Payment was simple and easy as well. Day of surgery was a breeze! Everyone was so helpful and professional and you can tell they go above and beyond to ensure you have the best experience possible. The surgery was a little intimidating but Dr. Dougherty and his staff made sure I was as comfortable as possible. It's been less than 24 hours and I have no pain or discomfort and my vision is 20/15! It is truly life changing. Special shout out to Dr. Dougherty, both Dianas, Lucy, Lilly, and Jazmin for making this such a great experience. You guys are awesome!